Which challenges will the new MARPOL Sulphur 2020 regulations give the bunker industry? Which fuels will we see on the market, and what will they be like?
We will see a variety of new products in the coming 2020 market, all fulfilling the new MARPOL annex VI Sulphur Requirements. Some products will be like, the already known, new ECA hybrid fuels derived mainly from high paraffinic Vacuum Gas Oils (VGO) and others more like the 1% ECA fuels we knew from before 2015, based on aromatic blends. All of them containing 0.5% sulphur or less. A challenge with the latter product can be the content of cat fines in a relatively low viscos product. Cat fines might even be the characteristic classifying the product into an ISO 8217 standard, see table 2 - Residual Marine Fuels from the ISO 8217 below: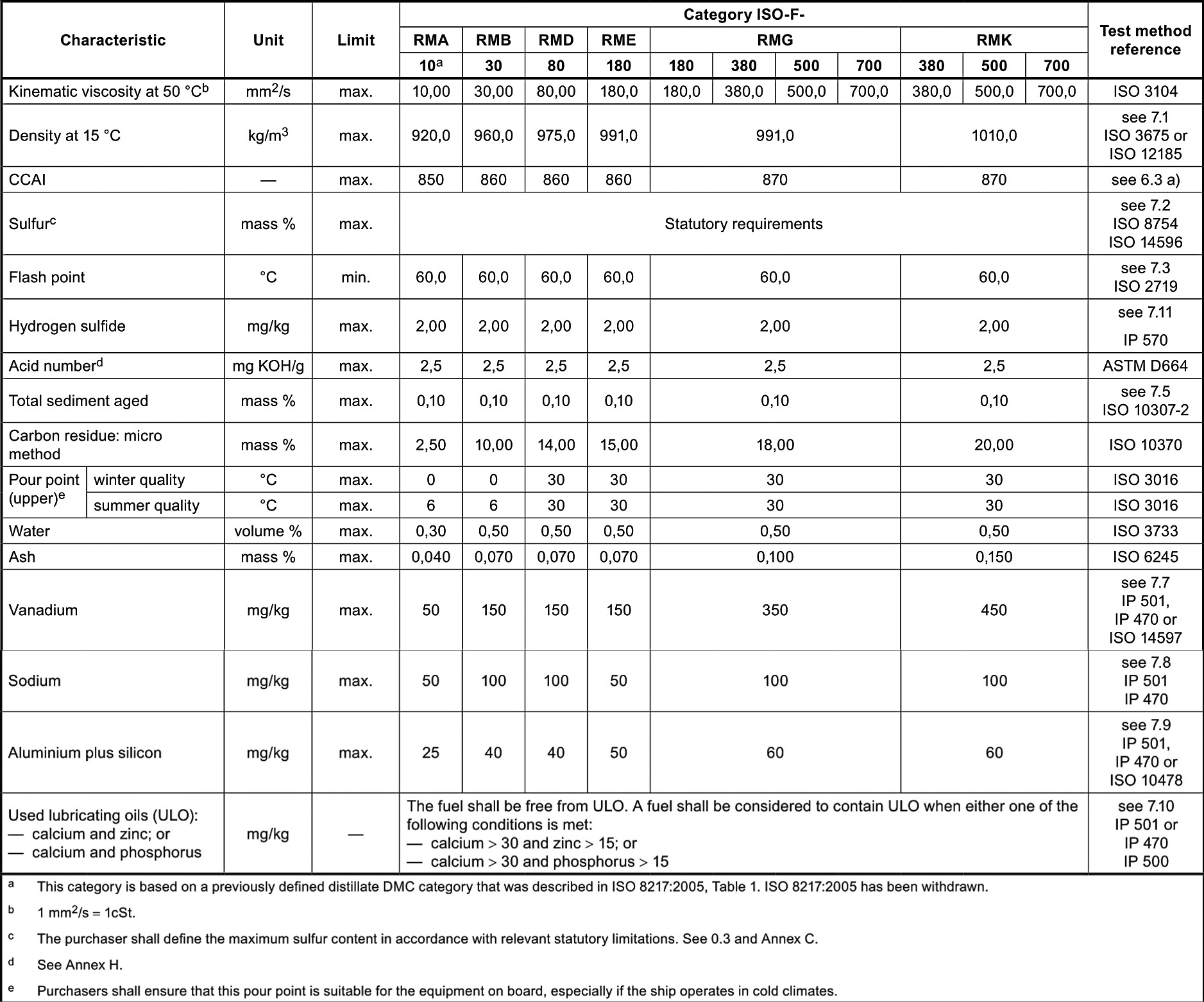 Avoiding sedimentation by commingle of paraffinic and aromatic based products will be a huge challenge for the ship owners. Especially owners trading in tramp trade and trading in and out of Emission Controlled Areas - Emission Controlled Areas (ECA's). Not only avoiding contamination of the sulphur content in the ECA fuel, but also avoiding blending of new 0.5% products if derived from different suppliers with different origins.
Availability but not compatible
Owners' considerations should be on configuration of the bunker system of specific vessels, skills of crew and finally, bunker qualities in different ports enroute. MARPOL compliant fuels will be widespread available, but might not be compatible between individual suppliers.
Most products will be blended to fit into the ISO 8217 with two blend targets: sulphur and cold flow properties (pour point) and then "just" fit into one of the lighter residual products in table 2. A question is, however, how prepared and suitable ISO 8216 and ISO 8217 are for those new coming products. They can hardly be called residuals with a content of 80 to 90% distillates.
It will be different with fuels coming into the market derived from sweet crude sources e.g. Central African crudes where ISO 8217 qualities divided by viscosity brands can make good sense as a quality indicator. Those products can - to a certain extent - contain very high ratios of "old fashion" good qualities - Straight Run - residuals, for which ISO 8217 is very good when diversifying into qualities.
Scrubber vessels also need to be on the alert
Owners with scrubber fitted vessels will also need to be alerted on avoiding commingling of non-compatible products, especially if they call smaller niche ports with no High Sulphur Heavy Fuels Oils (HSHFO) available. They thus need to take minor lots of MARPOL compliant fuel to reach flow ports with available HSHFO. A small curiosity in the EU Sulphur directive is that a max sulphur content for HFSFO in EU waters and ports remain 3.5% so that even an open loop scrubber is capable to clean the products and hereby be compliant with MARPOL Annex 6 reg. 14.
Knowledge is king
For a fuel supplier it is important, now more than ever, to have a good knowledge of the worldwide market and the diversified qualities and not least have a good dialog with the customers and consumers on different possibilities and opportunities. For the owners it will be even more important that their fuel supplier knows the nature of fuels in combination with a deeper knowledge of onboard fuel system configurations and knows the problems. We will see many on-spec and ECA compliant fuels with very low- or no compatibility even in the same geographical areas depending on the configuration of the individual refineries
A broad variety of customers may need both technical but also legal assistance, e.g. assistance how to formulate new bunker clauses in Time Charter Parties being a hot topic for many TC owners to be compliant with the 2020 MARPOL issues.